After seven years with the Australian String Quartet, this will be the final year for our much loved cellist Sharon Grigoryan. Over her time with the ASQ, Sharon has become one of Australia's most highly regarded cellists, and a cherished member of our ASQ family. Sharon's decision comes as she allows her young family more flexibility and time to spend together, including an ongoing project with classical guitarist husband, Slava Grigoryan.
Saying goodbye to Sharon is tinged with sadness, but this is counterbalanced by the camaraderie and understanding that exists between us all, and a prevailing sense that the timing is right for Sharon.
---
A message from Sharon
"I can't begin to express how much gratitude I have for my time with this wonderful group of people at the ASQ. The last seven years have been filled with joy, challenges, excitement, love, and top music making. I have made so many friends from around the country, and have learnt so much about life thanks to this job. Coincidentally, it has also been seven years that I have been together with my husband, and it is now time to make a shift in my priorities to be able to spend more time with him and my little boy. I will forever look back on my time with the quartet with affection and gratitude, and I hope I will always remain a part of the ASQ family even if it's from the audience!"
Sharon Grigoryan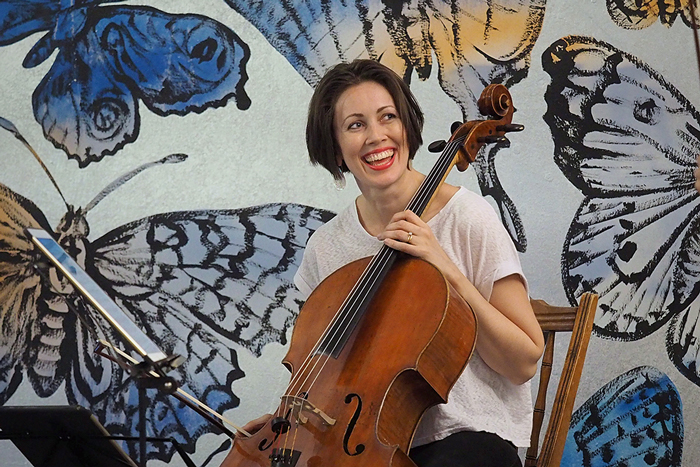 ---
Introducing our ASQ Cellist from 2021
ASQ Board Chair, Nick Callinan AO, is delighted to announce the appointment of Michael Dahlenburg who will join quartet members, Dale Barltrop, Francesca Hiew and Stephen King, at the conclusion of Sharon's term in mid November 2020. Principal cellist of the Melbourne Chamber Orchestra and founding member of the award winning Hamer Quartet, Dahlenburg is a consummate performer and a passionate advocate for music education. "It is humbling to be given the opportunity to continue the legacy of ASQ to be a quartet for all Australians, and to deliver chamber music of the highest level. It is an honour to take up this posting which has been filled with such incredible and inspiring cellists over its many years, most especially my predecessor Sharon, who I applaud and thank for her grace and craftsmanship in this most special of roles. I am excited and ready for all the great music, and the opportunity to share it with the ASQ community" 
Michael Dahlenburg
---
Until then, it's music as usual!
You will have the opportunity to farewell Sharon over the remainder of the 2020 season with live performances slated to resume as soon as practicable in accordance with new social distancing measures.
In the interim, subscribe to our brand new ASQ Live + On Demand platform and stream our first webseries, ASQ Live at UKARIA. Priced at $40 for eight webisodes, the series – featuring the full ASQ line up and special guests –  will kick off on 2 August 2020 and will be available on demand until 31 October 2020.